Your Weather Information Operating System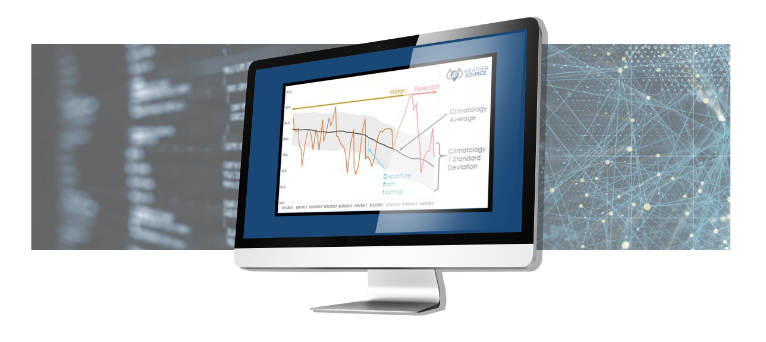 Weather Source's OnPoint Platform is a comprehensive patent pending weather data platform built from the ground up by meteorologists, climatologists, mathematicians, statisticians and research scientists. The OnPoint Platform manages the complexities of ingesting, prepping and delivering weather and climate data for use in business intelligence.
The OnPoint Platform empowers users by providing a comprehensive suite of weather data and information that is accessible within a unified grid system. All data within the Platform can be accessed via the OnPoint API and is also available within the Google Cloud Platform, Amazon Web Services and other major data platforms.
The OnPoint Platform supports nearly 2,000,000 global points with nearly 700,000 points on the North American OnPoint Grid (5km spatial resolution). When accessing the OnPoint Platform via the OnPoint API, users can request data for any Lat/Lon point with results that are intelligently interpolated from nearby grid points. The dynamic interpolation function of the OnPoint API means users have instant access to weather data and information for any point on any landmass on the planet.
The OnPoint Platform is a Weather Data
Information System Consisting of:
OnPoint Graphics
OnPoint API
OnPoint Analytics
OnPoint Past & Present Weather
OnPoint Forecast Weather
OnPoint Climatology
The OnPoint Platform also includes robust methods for data collection, cleaning and prepping for analytics. Weather Source ingests and processes data from thousands of global weather stations, and other inputs, continuously and tests and corrects errors in real-time. The quality checking process includes a battery of tests that include observation consistency tests (e.g., can't snow at 70F) and tests against companion datasets such as radar, satellite, and other meteorological data and analyses.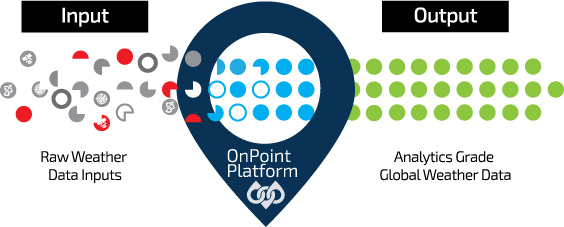 Observations that are missing or determined to be erroneous are replaced with estimates that are derived from surrounding data so you can always rest assured you are working with the highest quality data.