Weather Source is excited to announce we have partnered with Knoema, an end-to-end data and knowledge management platform. Knoema customers can now integrate, visualize, and autonomously discover Weather Source data products.
"Knoema's value goes far beyond simply cataloging industry-leading alternative datasets. I was impressed with their ability to map disparate data, and therefore provide visualization that helps clients discover insights and actionable data signals," said Michael J. Fix, Director of Sales at Weather Source. "Weather Source looks forward to providing our best-in-class weather and climatology data to Knoema customers and building upon this partnership."
Coincident with the introduction of Weather Source products, Knoema created two Insight Dashboards that showcase the value of our curated continuum of analytics-grade weather data:
1. Insights Into the Accuracy of Weather Forecasts for Major U.S. Cities
Those in the weather business know forecasts become less reliable the further out you go from the date in question. But access to homogenous and statistically consistent weather data such as that offered by Weather Source empowers organizations to create actionable business intelligence. The common schemas in Weather Source data make it easy to join and compare disparate datasets via a single pane of glass. To put this in context, Knoema considered a single day: July 4, U.S. Independence Day. Knoema compared forecasted weather parameters such as air temperature and precipitation against historical averages for four major U.S. cities. They concluded weather forecasts are generally most accurate out 3 days and relatively accurate out 5-7 days.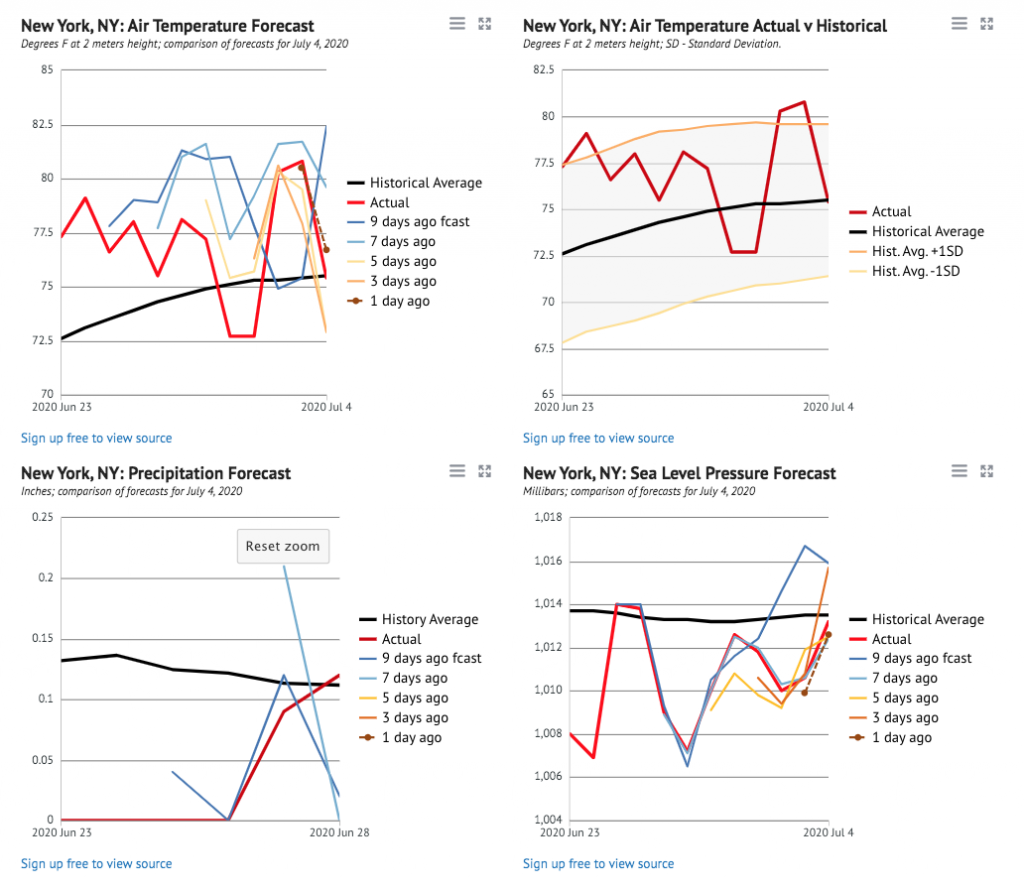 2. Criminals More Active in Nicer Weather
In this dashboard, Knoema examined how weather correlates with an unfortunately intrinsic aspect of society: crime. Analysis of weather data from Weather Source and crime statistics from the Chicago Data Portal shows that the intensity of some (but not all) types of criminal activity correlates highly with weather conditions. Knoema found warm air temperatures and blue skies seem to align with most types of criminal activities.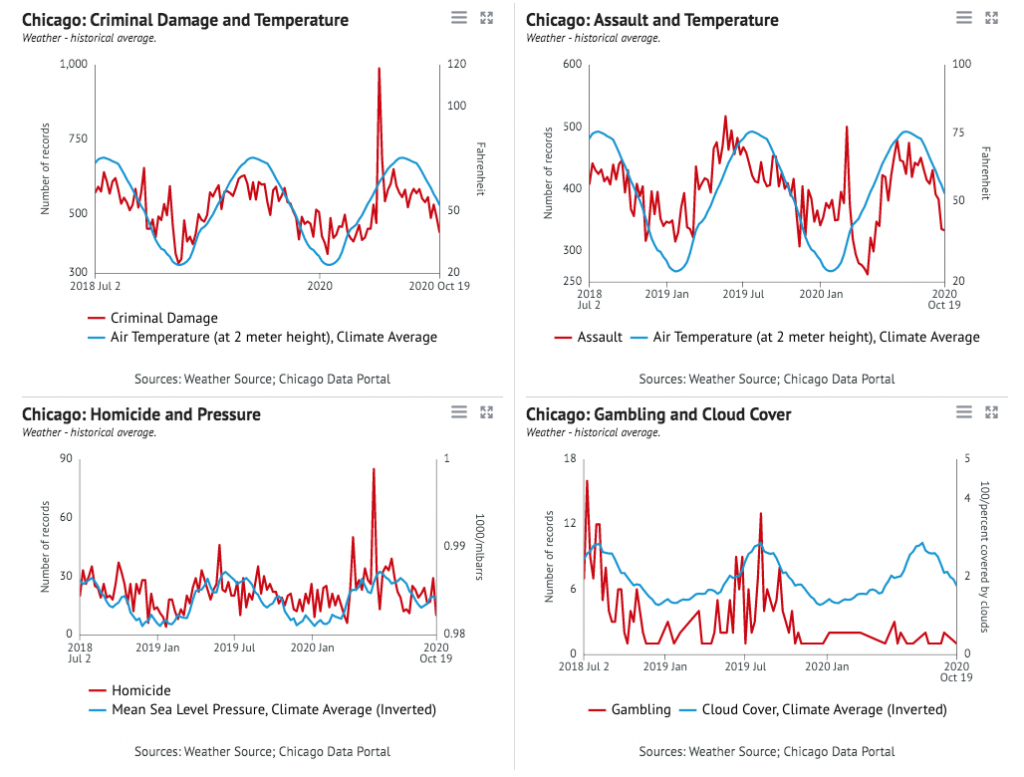 The Value of Versatile, Granular Weather Data
"We're delighted to welcome high-quality data providers like Weather Source onto the Knoema platform," said Charles Poliacof, CEO of Knoema. "The breadth and depth of data that individuals and enterprises are seeking is expanding rapidly. We are confident that the versatility and granularity of the weather data available by Weather Source enhance the Knoema experience for individual and enterprise clients."
Weather Source's hyper-local solutions can be tailored to a customer's points of interest, from lat/lon coordinates to geographically bounded areas such as ZIP/Postal Code, designated market area (DMA), metropolitan statistical area (MSA), Census tract/block, county, and more. 
Weather data can reveal meaningful observations for a variety of industries. For example: retail and food service companies can analyze weather's effects on product sales and footfall traffic; finance organizations can optimize trade signals; energy providers can anticipate potential changes in demand; and much more. Nearly every business has some degree of weather sensitivity and Weather Source has the tools and expertise to help organizations harness Mother Nature to their advantage.
Click here to access Weather Source data via Knoema.