Has the Dark Sky announcement got you down? There's nothing but sunny skies ahead with Weather Source. 
Weather Source is extending a one-time offer of superior data at the same price for Dark Sky API customers affected by Apple's recent acquisition of Dark Sky. If you're seeking a new weather API, we invite you to discover why Weather Source data powers a majority of Fortune companies.
We are pleased to offer a complimentary 30-day trial of our OnPoint API and will match any Dark Sky subscription price for the first 12 months of an annual Weather Source API subscription. This introductory rate will provide access to OnPoint Weather, including past (historical), nowcast, and up to a 15-day forecast. 
A Deep Continuum
Weather Source offers a single source of truth. Our curated continuum of data from the past to the present and into the future is gap-free, homogeneous, and globally uniform. Weather Source data is available in both hourly and daily formats.
Multiple Inputs 
Many weather data providers rely on a singular input, such as government data gathered at airport observation stations. This data becomes less actionable the farther your location of interest is from one of these weather-sensing inputs. At Weather Source, we collect data from a wide variety of reliable inputs, including airport observation stations, satellites, radar, and Internet of Things-enabled devices.
A High-Resolution Grid
Our API is built on a novel grid system that covers every land mass in the world and up to 200 miles offshore. Each grid point—nearly 2 million in total—represents a "virtual" weather station with a unique OnPoint ID. This unparalleled, high-resolution method ensures your locations of interest are never more than 1.2 miles away from an OnPoint ID.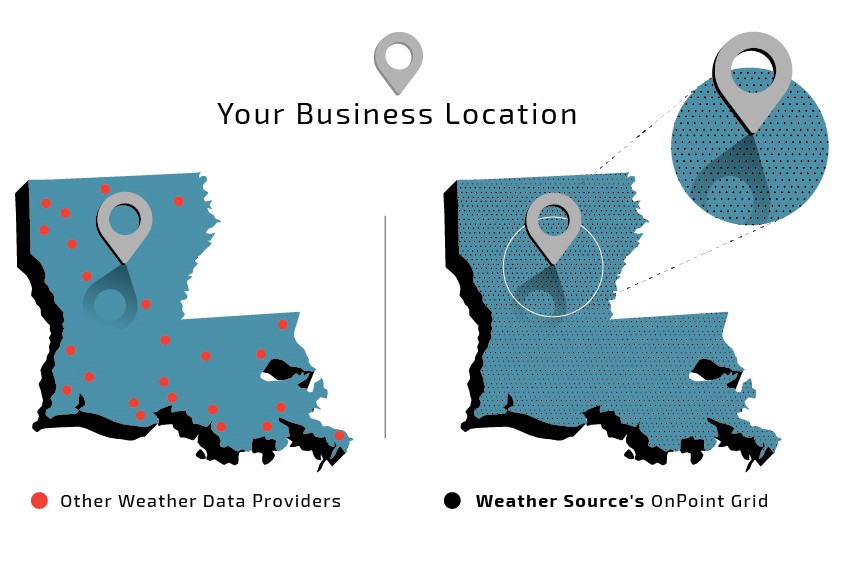 Ease of Integration
Seamlessly transition to Weather Source's lightning-fast OnPoint API. We support a wide range of response formats and delivery methods, including JSON and GeoJSON.
Dark Sky API users must sign up by May 7 to access this special offer. Contact sales@weathersource.com to get started today!