The COVID-19 outbreak, colloquially known as Coronavirus, was officially declared a global pandemic Wednesday, and researchers are racing to understand the new pathogen. As correlations between weather and the virus begin to emerge, many experts believe colder temperatures and lower humidity levels could lead to greater COVID-19 viability and weakened immune systems. Therefore, the powerful combination of cold, dry conditions and diminished immune response has the potential to accelerate virus transmission.
A study conducted by a team from Sun Yat-sen University in Guangzhou, China, concluded COVID-19 is sensitive to higher temperatures, and that there may be an optimal temperature for transmission. The study (which has yet to undergo peer review) claims COVID-19 transmission is most prevalent at or up to 8.72°C (47.69°F), the South China Morning Post reported March 8.
Figure 1 shows a Weather Source time series of daily average temperature for Wuhan, China, that corroborates the aforementioned hypothesis. From late November through mid-February, daily average temperatures (°F) were in the mid-30s to mid-40s. According to the study cited above, the temperatures during that time period were favorable for the viability and transmission of COVID-19.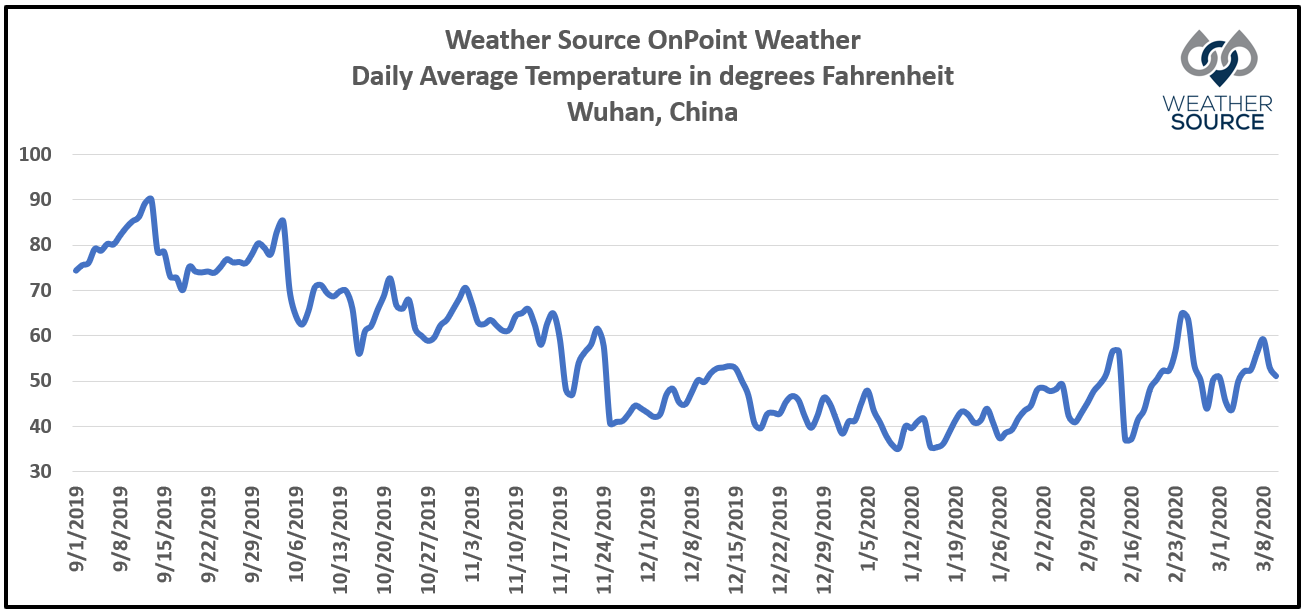 Similar to the Sun Yat-sen University findings, a World Health Organization situation report published Feb. 21 included the following information regarding the viability and survival time of SARS-CoV-2, which causes the new COVID-19: 
"In general, coronaviruses are very stable in a frozen state according to studies of other coronaviruses, which have shown survival for up to two years at -20°C [-4°F]. Studies conducted on SARS-CoV and MERS-CoV indicate that these viruses can persist on different surfaces for up to a few days depending on a combination of parameters such as temperature, humidity and light. For example, at refrigeration temperature (4°C/39.2°F), MERS-CoV can remain viable for up to 72 hours."
And in 2014, Yale University researchers concluded what mothers everywhere have always known—there is a link between cold weather and a compromised immune system. Lower temperatures lead to artificial heating methods and drier indoor environments, which weaken the nose's immune defenses. This is possibly another reason Wuhan experienced a spike in COVID-19 cases as the average daily temperatures from late November through mid-February were in the mid-30s to mid-40s. 
Whereas Figure 1 illustrates temperature at a point, Figure 2 uses Weather Source data to show that climatological conditions in Wuhan were conducive to COVID-19 transmission when the outbreak was first detected in December. Figure 2 visualizes where climatological average temperatures from 40°F and lower are common for the month of December across the globe. The intent is to highlight where COVID-19 is likely to be more viable and transmissible.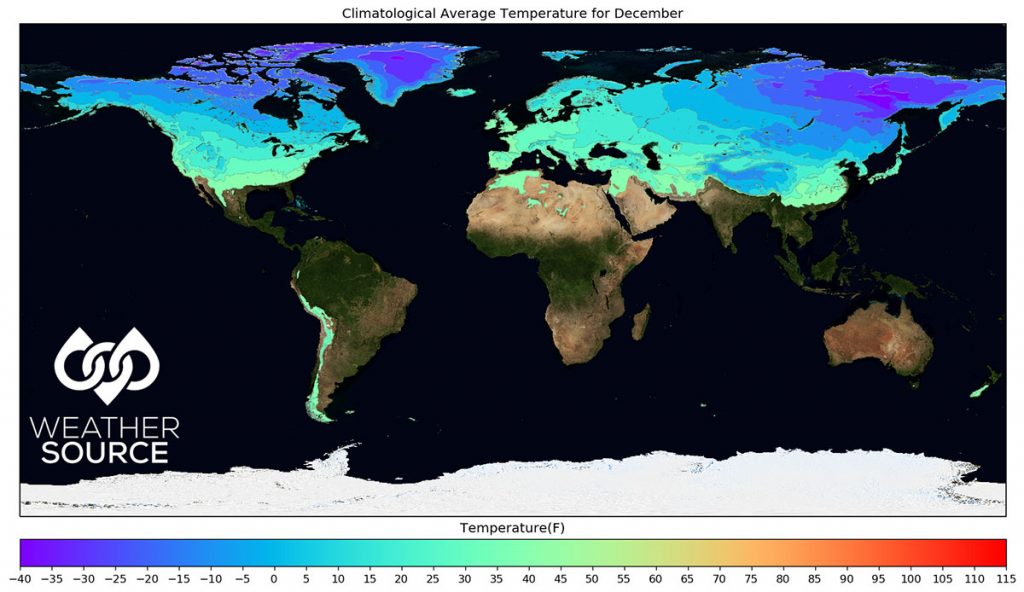 Figure 3 reveals where climatological average temperatures from 70°F and higher are common for the month of July across the globe. The intent is to highlight where the population could potentially experience some respite from COVID-19 in the summer months.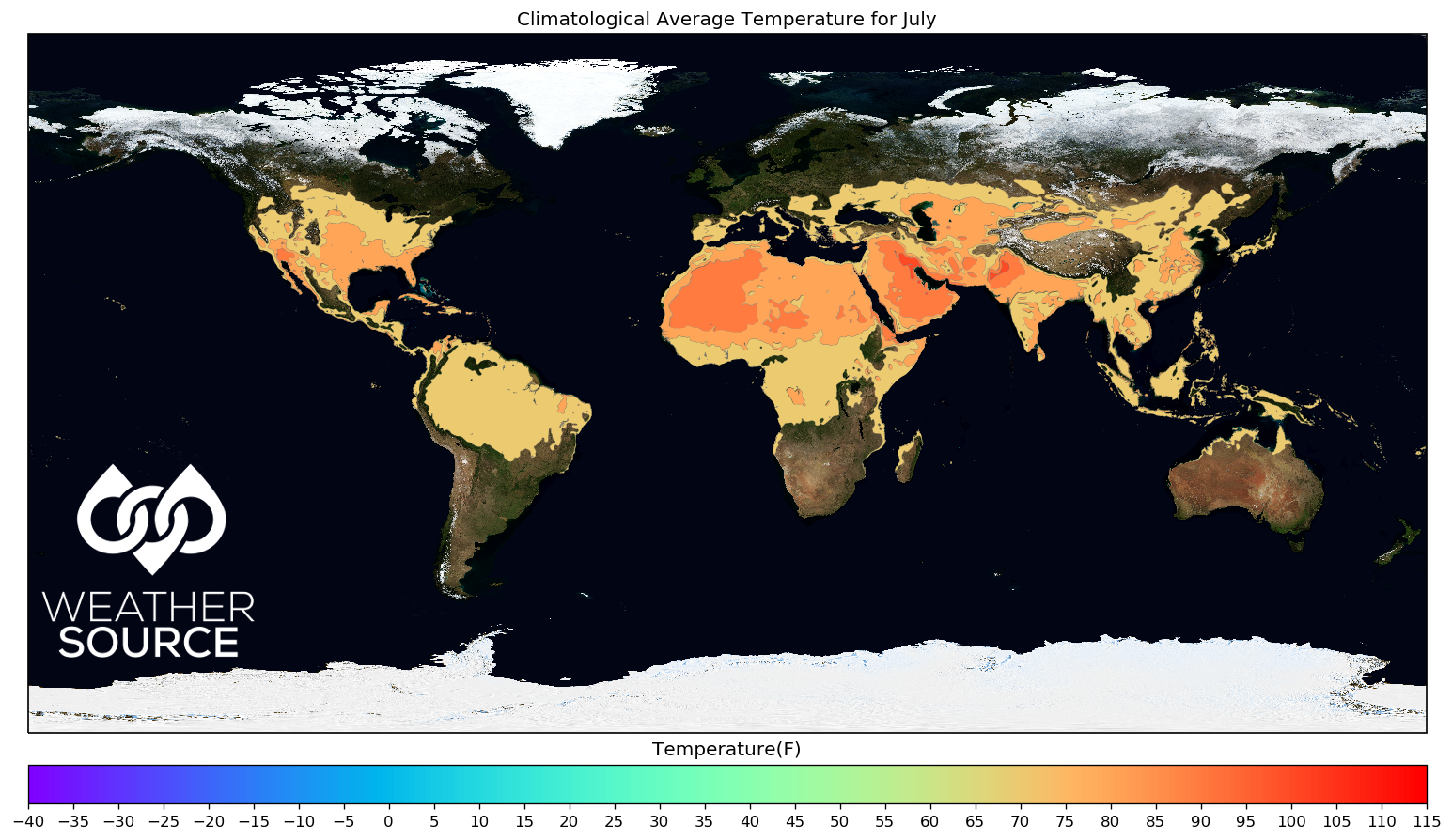 Though early evidence indicates COVID-19 transmission may be stymied as warmer weather arrives, health officials warn such predictions should be regarded with caution. Disease proliferation could de-accelerate as winter comes to an end in the Northern Hemisphere, but COVID-19 could become a persistent or seasonal threat in cooler locales. Indoor transmission, especially in air conditioned buildings, is another important factor to consider.
A 2011 study published by University of Hong Kong researchers on the SARS-CoV infection found: 
"The dried virus on smooth surfaces retained its viability for over 5 days at temperatures of 22–25°C [71.6° – 77°F] and relative humidity of 40–50%, that is, typical air-conditioned environments. However, virus viability was rapidly lost (>3 log10) at higher temperatures and higher relative humidity (e.g., 38°C [100.4°F], and relative humidity of >95%)." 
As connections between weather and the COVID-19 pandemic emerge, Weather Source seeks to do our part in mitigating disease transmission. To this end, we are offering free access to our OnPoint API for academic and public sector researchers who are actively working to understand the relationship between COVID-19 and weather. 
"It's increasingly apparent that there are links between COVID-19 epidemiology and weather and climate factors," said Weather Source CEO Mark Gibbas. "I believe our dataset can be a valuable tool for the many research institutions working around the clock to contain the spread of this threatening virus. Weather Source is here to support their efforts in any way possible."
Those interested in applying Weather Source weather and climate data to their COVID-19 research may click here to gain free access to the OnPoint API by selecting "research usage." A Weather Source representative will then follow up with you to grant full API access. For questions or more information, please reach out to us at info@weathersource.com.