A single source of truth for weather data and insights is essential for any business that earns its revenue through outdoor recreation. From biking, hiking, and fishing to sports, concerts, and entertainment parks, Weather Source has you covered. 
Bike Sharing & Temperature
This use case from our strategic partner Snowflake demonstrates the power of data sharing and integration to deliver actionable analysis for recreational businesses. Snowflake integrated trip data from bike sharing company Citi Bike with weather data to correlate temperature and ridership. Understanding these correlation patterns can empower Citibike to monitor current and forecasted temperature and predict ridership in the upcoming days. With these predictions, the company can adjust the number of bikes at each station to match actual demand and avoid the costly movement of bikes via truck unless necessary. 
Snowflake sales engineer Olivier Sinquin tailored this New York City-based use case for potential Montreal customers using open-source data from BIXI, a similar, Canadian-based bike sharing company. In search of Montreal weather data to integrate with BIXI trip data, Sinquin discovered Weather Source via the Snowflake Data Marketplace. 
"The Weather Source dataset met my exact need: daily historical data over the past years, including temperature—except there was data for Quebec City, not Montreal," Sinquin said. "So, I used the built-in feature to contact Weather Source and requested the same data for the downtown Montreal Postal Code. Within 3 hours the required table 'automagically' appeared in my account, without any crazy SFTP or CSV ingestion. Actually, no data movement was required at all. That's why in engineering we use the term 'automagically!'"
By simply joining the data by date Sinquin could analyze correlations between ridership and temperature using both Tableau and Snowsight, Snowflake's built-in data visualization feature. The analysis revealed that ridership does indeed rise and fall alongside outdoor temperature.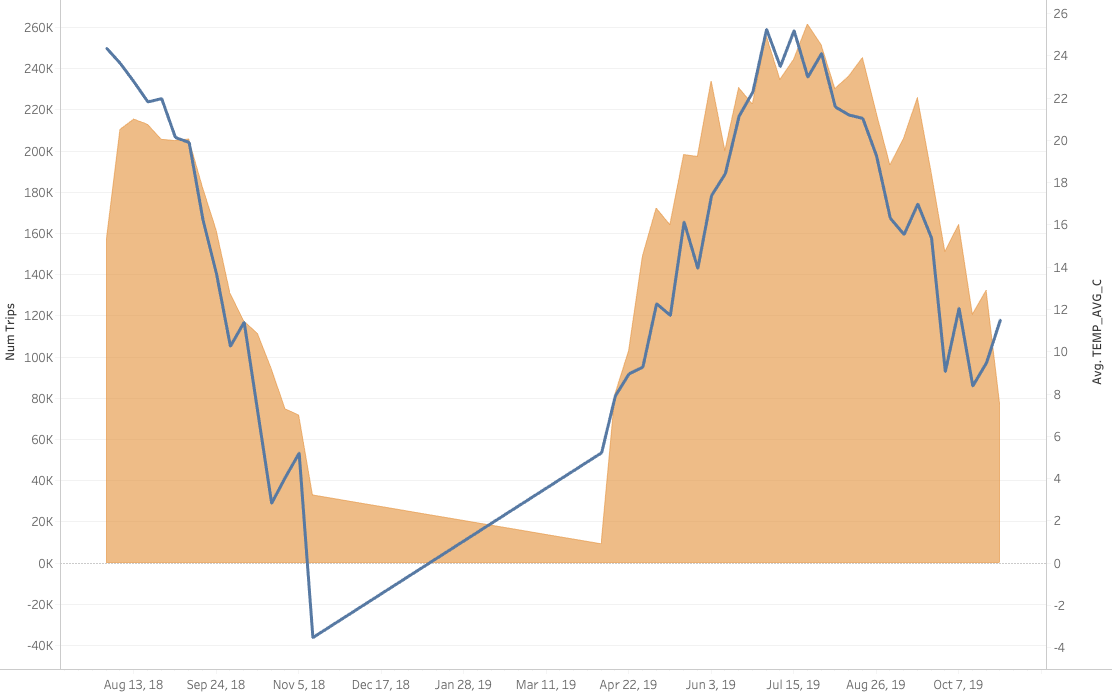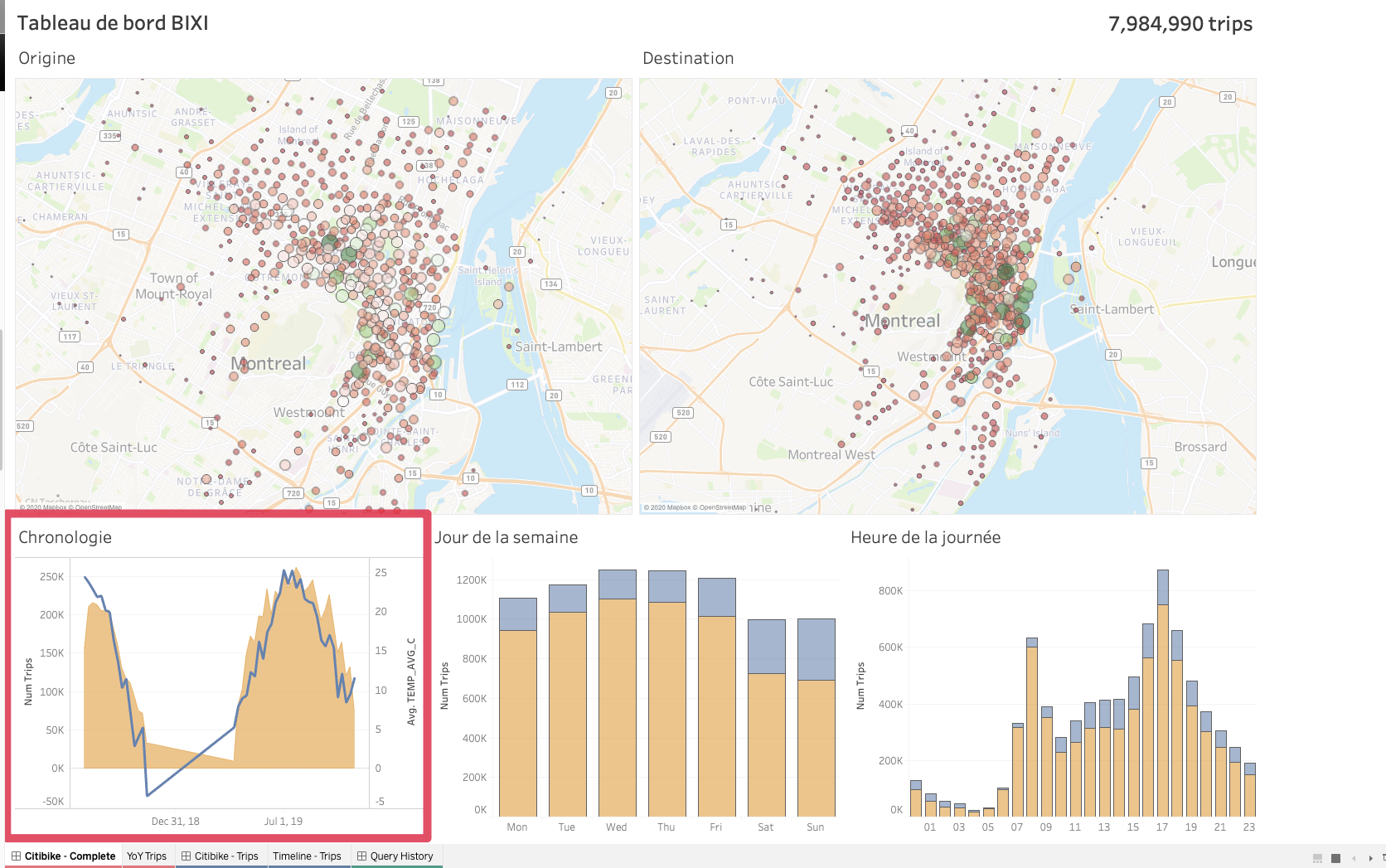 These insights are now part of nearly every Snowflake training, revealing the seamless, intuitive, and impactful nature of integrating hyper-local weather data with internal and third party data for business intelligence.   
Amusement Parks
Weather Source data is also extremely useful to help amusement parks keep customers safe and tailor staffing, inventory, and attraction availability accordingly. 
In this use case, a large quantitative firm integrated Weather Source historical, present, and forecast weather data with geolocation and web traffic data to analyze attendance growth at the world's largest regional theme park company. The weather data forecasted precipitation levels that were unusually high compared with the climatological mean for the upcoming quarter. This insight was used to accurately provide a strong weather/visitation correlation at the company's theme parks and to predict less footfall traffic year over year. The firm recommended a more conservative investment approach as a result. 
Weather Source is proud to power the largest entertainment companies in the world, including Warner Brothers Experiences, Manning Park Resort, and Herschend Family Entertainment. 
Ski Resorts
For winter sport regions where the economy thrives and withers on seasonal snowfall totals, trusted weather data can play an important role in investment decisions. 
For example, a major financial services organization leveraged Weather Source's best-in-class alternative data to re-assess its valuation of a prominent American mountain resort company. When coupled with footfall traffic data, the weather data revealed that heavy and continuing snowfall attracts ski enthusiasts to the resorts in higher numbers than anticipated, including many first-time visitors. Increased snowfall also leads to an increase in discretionary spending on lift tickets, lodging, and resort amenities, as well as greater potential to convert new guests from day passes to the more expensive season passes. These positive trends led the financial firm to shift its valuation in favor of the resort company.  
And Much More! 
The potential for weather-driven insights around recreation are endless. Other examples include tourism, guided activities, or mobile apps geared toward outdoor enthusiasts. Weather Source data can be used to answer the following questions and much more:
What is the forecasted weather  and "feels like" temperature for a given day?

What is the probability of rain for each day?

What is the probability of cloud cover for each day?  More importantly, what is the percentage of cloud cover? 

What will the wind speed and direction be on a given day?

What is the best time for my activity on a given day with respect to humidity?

What is the best day to watch a sunset from a certain location in terms of cloud cover, moon phase, etc.?

What is "normal" or "average" temperature for each hour and day of the month?

What is the hottest day on record for a certain month at a certain location?

What is the rainiest day on record for a certain month at a certain location?
Our data can seamlessly integrate with websites, mobile apps, or geospatial visualizations. Click here to learn more.