As severe weather approaches, frenzied grocery stores are commonplace. Stores stock extra cases of water, batteries, and toilet paper in anticipation of crowds, and the stereotype is that people stock up on bread, milk, and eggs. Understandably, consumers also purchased  cookies, chips, and alcohol, said Elyria Kemp of the University of New Orleans.1 But did you also know that the demand for Strawberry Pop-Tarts also goes through the roof when there is a hurricane forecasted?
According to Linda M. Dillman, former chief information officer for Walmart, Strawberry Pop-Tarts increase in sales, like seven times their normal sales rate, ahead of a hurricane. And the pre-hurricane top-selling item was beer.2 Walmart has learned that Strawberry Pop-Tarts are one of the most purchased food items, as they require no heating, can be used at any meal, and last forever," economist Steve Horwitz, who studied Walmart's response to Hurricane Katrina, told ABC News in 2011.
The weekend of March 13, grocery stores in Colorado were being cleared out by residents who are preparing for a huge winter storm that could leave up to 48 inches of snow.3 Shoppers stocked up on items from chicken to produce and most likely pop-tarts. 
The Progressive Grocer4 suggests that grocers incorporate weather modeling in supply chain forecasting. "Grocers should use short-term or real-time weather forecasts to identify the demand fluctuation when weather changes strike, and make sure the right levels of safety stock are in place at warehouse and stores," said Andrew Blatherwick, chairman of RELEX Solutions, a Helsinki, Finland-based retail-planning company.
Between 2016 and 2018 in the United States, the number of weather-related billion-dollar disaster events was historic – more than double the long-term average, reports the National Oceanic and Atmospheric Administration.5
By implementing a weather strategy consisting of actionable and comprehensive weather information, grocery stores can effectively utilize weather-based planning to make informed decisions, optimize product sales and most importantly that they have the right products on the shelfs to meet customer demand. The key is to mitigate weather related risk by optimizing business opportunities and a prime example is ensuring you have adequate stock of Strawberry Pop-Tarts when a hurricane is forecasted.
Weather Data and Weather-based Solutions Empower Companies
The OnPoint Product Suite with its deep historical database allows grocers the ability to easily correlate any business parameter, including product sales and footfall traffic, to historical severe weather data and create predictive models and actionable business intelligence. The results of these analyses effectively help businesses prepare for and mitigate risk related to severe weather. 
For grocery chains that do not have the data analysis expertise, Weather Source also offers weather based solutions. An example is our Weather Insights Platform (WIP) which is a dynamic, web-based application that allows companies the ability to create 14 day sales forecasts, compare year-over-year sales down to the product SKU and discover what types of weather impact their business.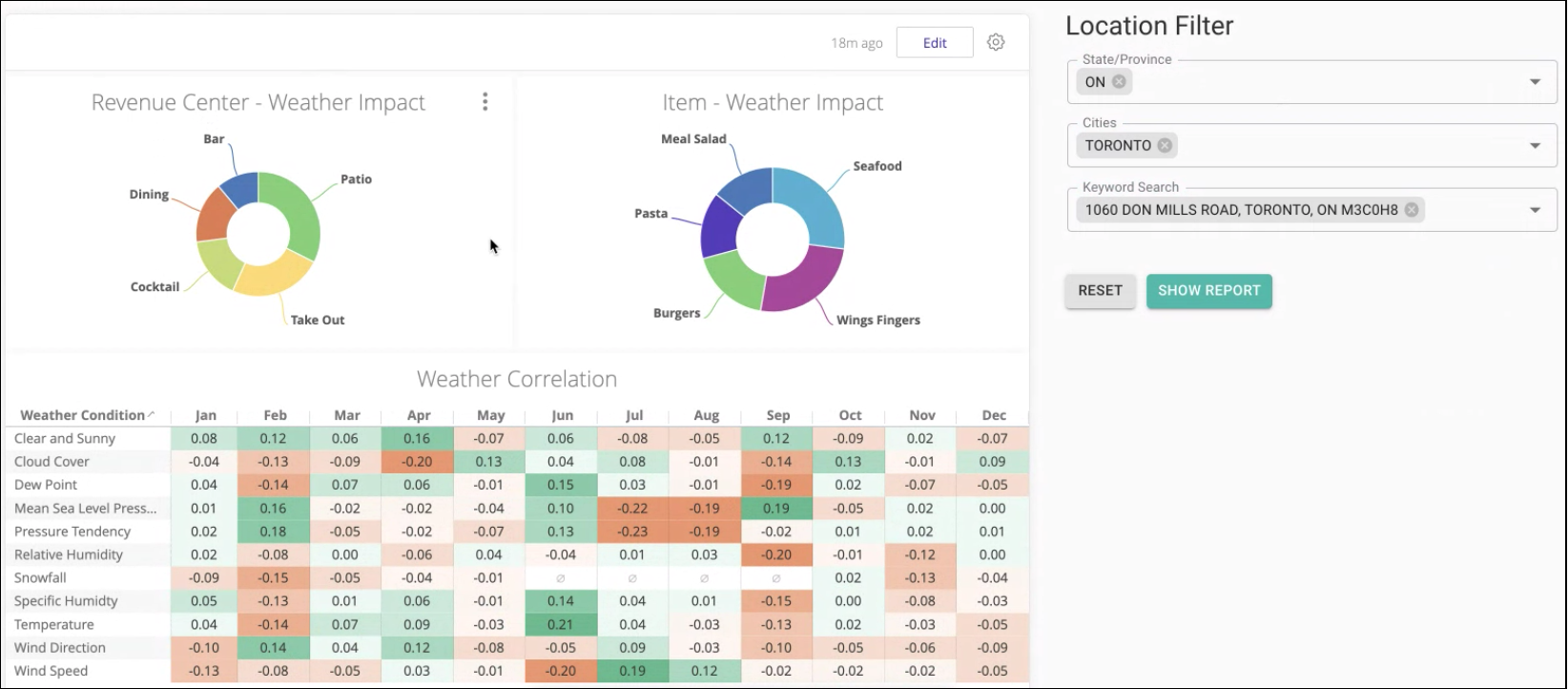 A sample of a summary of weather impacts by revenue center and item from your WIP dashboard.
Another weather based solution is our Condition-Based Ad Triggering (C-BAT) application that   provides grocers the ability to automatically deploy specific messaging based on preset weather conditions ensuring you are reaching your customer at the precise moment a weather condition emerges. 
A nationwide grocery store chain recently deployed enabling them to pre-tailor marketing campaigns for their weekly flyers driven by forecasted weather conditions. 
Contact sales@weathersource.com to learn more about Weather Source and how we can help you be prepared the next time severe weather hits.
Sources: