Here comes Super Bowl Sunday and what are the forecasted conditions? Perfect! Or if you are a crusty, get-off-my-lawn, football-was-meant-to-be-played-in-the-elements old timer, then…horrible! The biggest gridiron celebration of the year will be played in a stadium that could pass for an invading alien spaceship with the technology to boot, in a city that complains if it's below 65 degrees, and with each team getting a week onsite to relax, get acclimated to the environment, and have the city of Los Angeles feed their egos like they were Hollywood movie stars. How lucky (or unlucky) can the football faithful be? Los Angeles is expecting an anomalistically warm week leading up to the game with temperatures possibly reaching 90 degrees and setting records for a February. I guess Mother Nature decided to shine her light on the big game as well, as if that was needed. Couldn't you throw some flurries on the tailgaters at least? Nope, February 13th looks to be a great day to wear shorts. What about when it's time to turn off those grills, head into the stadium, and take your completely reasonably priced seats?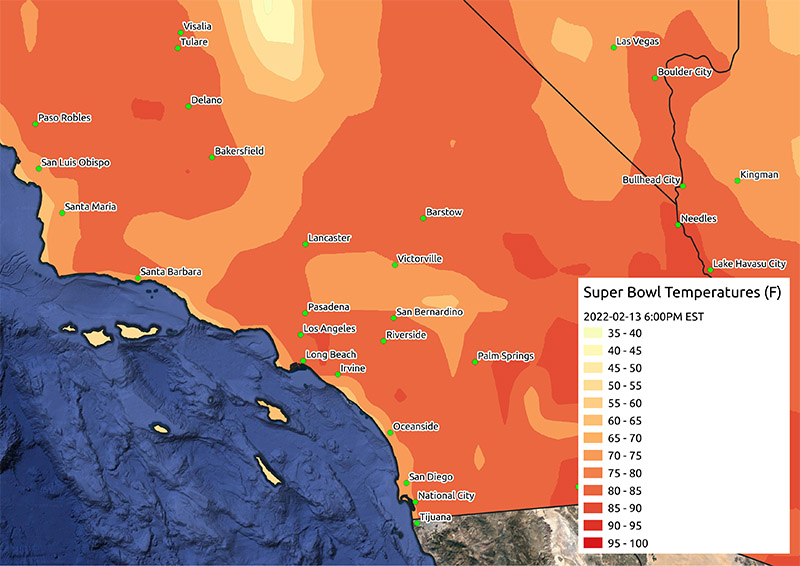 SoFi Stadium, home of Super Bowl LVI and the prototype flagship for the next Star Trek movie, isn't a domed stadium or even a retractable roof stadium. That was so yesterday. It is an "indoor-outdoor arena" with a canopy design architecture that deflects sunlight and allows the Pacific Ocean breeze to pass through naturally cooling the stadium all without letting a single drop of rain inside, and if it isn't raining, the canopy has controllable panels that can open to create a vacuum effect and draw heat produced by the crowd out of the stadium. Thus, SoFi Stadium reduces its carbon footprint with natural air conditioning. So what? Lambeau Field is, well, Lambeau Field. Was the purpose of this design just to be cool, or is it part of a bigger picture and trend for businesses and their properties? Taking a quick glance at the stadium's sustainability goals, it could easily be mistaken for a bill passing through the California legislature, but environmental responsibility is no longer originating from just governing bodies. Objectives such as responsible energy sourcing and efficiency, climate risk mitigation, and overall environmental stewardship have risen to top-level priorities for businesses not because of rules or regulations, but rather investors and consumer activism.
The NFL, three letters wielding much economic power and cultural influence, is changing its business model in many aspects to improve relations with its community, comply with the interests of consumers previously believed to be unreachable, and lead the business community in another three letters demanding much attention, ESG. Environmental, Social, and Governance isn't just for a few tech behemoth leaders to meet and preach about, it is now common practice and those businesses with constant public attention such as professional sports are forced to lead by example. Hiring female coaches and referees, reexamining the Rooney Rule, sustainable stadiums, improving player safety including immediate and long-term mental healthcare, the professional football league is a highly visible example of the rapidly evolving relationship between a business's leadership, employees, the community, and the world.
The Super Bowl looks and feels very different from the original Green Bay won in the L.A. Coliseum, almost to the point where the actual game itself feels like a sideshow. But it is the biggest spectacle of the year, a great showcase of achievement both on and off the field, and the best billboard to communicate our collective responsibility. Enjoy it while the players are still allowed to hit each other. And Joe, do the responsible thing, beat the Rams.