The insurance industry is no stranger to claims related to extreme weather events, but as these extreme and anomalistic events continue to increase in frequency, severity and duration, they are being faced with mounting costs, with no end in sight. Insurers need to ask themselves if they are truly prepared for the expected losses and claims related to extreme and anomalistic weather now and into the future. 
According to Munich RE, the total cost of global weather-related damages in 2020 amounted to $210 billion. Over the past five years (2016-2020) weather-related damages have exceeded $600 billion according to NOAA in the U.S alone; in 2020 the U.S. incurred $95 billion in damages. As of July 9, 2021, the United States has already experienced eight weather/climate events with losses exceeding $1 billion each.
Data Preparation is Key for an Insurers Survival
In the past, insurers have monetized premiums and not underwriting. They receive massive insurance premiums and then invest the capital in a variety of investments. Historically this has been one of the largest revenue producers for insurance companies. However, with record low interest rates and stagnant investment opportunities, insurance companies are now looking for new sources of revenue and are increasingly looking to monetize underwriting (i.e., pricing policies based on actual level of risk versus broader groupings of pricing such as ZIP Code, MSA, etc.).  
Combine the quest for new revenue sources with the prolific increases in extreme or catastrophic weather (and resulting claims), and insurance companies are coming to realize the need to embrace more actionable solutions to ensure that they are pricing policies appropriately based on current and future weather risk.
How Weather Source Works with the Insurance Industry
Weather Source has created customizable tools for the insurance industry to assist with quantifying the effect of weather events on insured assets and ensuring policies are priced based on level of risk and expected claims. Our Severe Weather Insights Platform is designed to provide the probability of weather risk directly to a precise location of interest and can be focused on any severe weather event including hail, hurricanes, tornadoes, storm surge, wildfires, etc.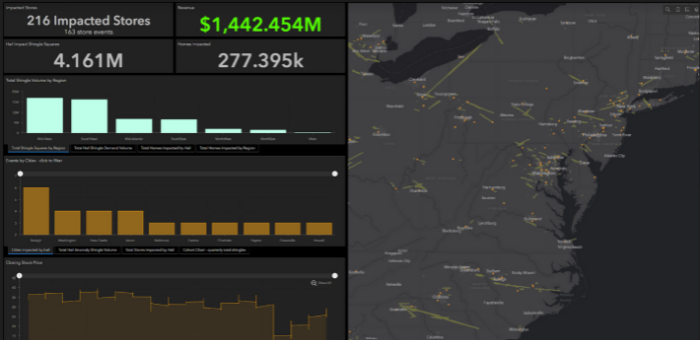 Sample image: Weather Source's Severe Weather Insights Platform showing hail activity.
To create the Weather Insights Platform, Weather Source mapped five years of hail data to approximately 200,000,000 United States homes. By building a hail climatology model, Weather Source was able to provide the customer with the expected probability of a hail impact in both a short and long-term view. With weather and peril data back to the start of the century, Weather Source can build climatology data for almost any peril including hurricanes, storm surge, river flooding, tornadoes, hail, wildfires and severe convective weather.
The platform allows the ability to drill down to any location to obtain more detailed insights, including the number of claims in a target area, historical vs. expected risk level, path of the weather event, and more. 
Learn more about Weather Source and how we can assist with bringing actionable weather & climate data to the insurance industry.