As weather increases in intensity, frequency and duration, so does the price tag for impacted industries. Over the last five years the United States has seen an influx of weather & climate disasters that have decimated the economy and 2020 was no exception. The annual average number of weather related disasters over the last five years (2016-2020) is 16.2 events compared to seven events from 1980-2020. A new annual record of 22 events in 2020 shattered the previous annual record of 16 events during 2011 and 2017.
The U.S. has seen 285 weather related disasters since 1980 with damages exceeding $1.875 trillion. In comparison, NOAA reported that 2020 had a total of $95 billion in damage with each of the 22 events resulting in damages of over $1 billion each. These events included one drought event, 13 severe storm events, seven tropical cyclone events, and one wildfire event.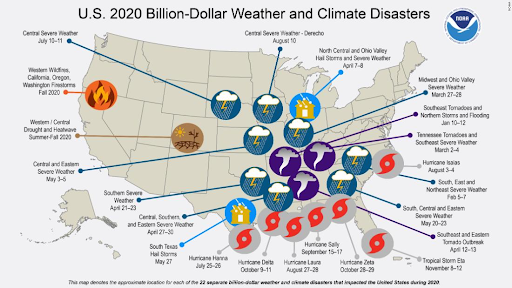 Figure 1: Map of all 22 weather & climate events in 2020 in the United States.
According to NOAA lead scientist Adam Smith, weather related disasters broke multiple records in 2020 including the following:
A new record of 30 named storms across the Atlantic and Gulf of Mexico.

12 of the named storms made landfall in the United States.

California more than doubled it's previous record, with more than 4.1 million acres burned by wildfires.

The August 10 Derecho produced damage costs of $11 billion.
Natural Disasters and the Disruption of Supply Chains
Over the last few years companies have begun to realize the devastating effects of weather & climate related disasters on their businesses and industries. With the increase of weather related disasters occurring each year the question most industries are asking is are these annual costs/damages quickly becoming the norm facilitating a necessary line item on financial statements? Unfortunately, the answer to this question is yes. According to NOAA, the number and cost of disasters have been increasing over time due to a combination of increased exposure (i.e., values at risk of possible loss), vulnerability (i.e., where we build; how we build), and climate change; which is increasing the frequency, duration and severity of weather that is leading to billion-dollar weather and climate related losses.
These natural disasters impact the economy in multiple ways including: crop shortages, extended delays of shipments of imports and exports, utility outages, property damage, health, civilian safety, and much more. With the increase of weather & climate events, companies have begun to realize the true importance of creating severe weather preparedness plans and becoming more proactive rather than reactive to mitigate risk as a result of severe weather.
Preparing for the New Norm
Since its inception, Weather Source has been assisting businesses on a wide variety of use cases with creating business intelligence and helping with risk mitigation as related to weather and climate. In addition, Weather Source is actively working on long-range climate outlooks and planning for both acute (up to 12 months) and chronic risk (e.g., 5-, 10-, 15-, or 20-year outlooks).
Weather Source in Action:
Weather Source is working with retailers who use our OnPoint Weather & OnPoint Climatology data to identify and quantify the impact of anomalistic weather at business locations including the creation of long-term seasonal views thereby empowering them to move seasonable products as a result of weather versus a predetermined date. 

An investment management firm with a significant position in agricultural commodities uses OnPoint Weather to monitor anomalistic temperature and precipitation values to quantify the impact on anomalistic weather on commodity futures which is allowing this investment management firm to make more informed trading decisions.
Contact sales@weathersource.com to learn more about Weather Source and how we can help your business with preparing for the norm.