According to a NYTimes article1, by 2040 in the United States, the major climate hazard may be wildfires and water stress. Other high risk climate hazards include heat stress, flooding, cyclones and sea level rise. And, overall in the United States, roughly 80 percent of the population, GDP and agriculture might be exposed to at least one climate hazard in the near future.
GermanWatch2 recently released its Global Climate Risk Index 2021 – it analyzes the extent countries and regions have been affected by impacts of weather-related loss events (storms, floods, heat waves etc.). It also analyzes the human impacts (fatalities) and direct economic losses. 
The most recent data available (2019) from 2000 to 2019, was taken into account in their findings. The results showed the most affected areas/territories affected in 2019 were Mozambique, Zimbabwe and the Bahamas. And for the period from 2000 to 2019 – Puerto Rico, Myanmar and Haiti rank the highest. 
This year's analysis (16th year) reconfirms earlier results of the index which concluded that less developed countries are generally more affected than industrialised countries. Concerning climate change in the future, the index may serve as a red flag, vulnerability could increase in regions where extreme events will become more frequent or more severe due to climate change. *Opposed to previous years, the underlying database for the calculation of the CRI 2021 does NOT include data for the United States.
CRI 2021: Map Ranking 2000-2019 | © www.germanwatch.org/en/cri
Comparing the Present to the Future
The NYTimes cited that, from 2000 to 2019, floods disrupted the lives of at least 1.65 billion people, the highest number in any disaster category. However in the future, looking at 2040, 41% of the global population could be exposed to the risk of inundations. Southern and southeastern Asia could be among the places hardest hit, with more than two billion people at risk they say.
In the past 20 years, hurricanes, typhoons and other storms were the deadliest weather-related disasters, killing nearly 200,000 people worldwide. According to the methodology used, that is only expected to get worse. Island nations in the Caribbean and East Asia are the most vulnerable, with many lying along historical storm paths. The methodology for this climate hazard data was provided by the environmental risk assessment company, Four Twenty Seven, to the NY Times.3
The Most at Risk Countries
According to The Hill4, nearly 500,000 people have died as a direct result of more than 12,000 extreme weather events globally between 1999 and 2018. According to the most recent scientific projections climate change will affect every country in the world.
The Hill's article also cited GermanWatch –  they feel that Japan, The Philippines, Germany, Madagascar and India could be the five most affected countries. But so many more are at risk for severe weather events. 
Japan:

In 2018 Japan was hit by three extremely strong extreme weather events – heavy rainfall in July that was measured daily as twice as much what was previously considered the wettest day in the country. In September, Typhoon Jebi made landfall, it was the most intense tropical cyclone Japan has seen in more than 25 years and it caused more than $13 billion in damage.

The Philippines:

Typhoon Mangkhut hit the northern part of the Philippines in September 2018 as a category 5 typhoon (the most powerful typhoon recorded worldwide at the time). It reached speeds of up to 270 kilometers/hour (about 168 mph) when it made landfall, and affected more than 250,000 people.

Germany:

The hottest ever recorded in German was from April to July 2018 with temperatures nearly 40

o

F above average. It led to the death of more than 1,000 people. Around 8,000 farmers requested federal emergency relief adding up to around $1.18 billion.

Madagascar:

In January 2018, the island of Madagascar was hit by Cyclone Ava, it hit  the eastern part of the island, towns were flooded and buildings collapsed. It was followed by Cyclone Eliakim in March that affected more than 15,000 people. Together they were responsible for forcing 70,000 people to seek refuge.

India

: The 2018 monsoon season, which lasts from June to September, severely affected the state of Kerala in particular – 324 people died due to drowning or being buried in landslides caused by the flooding (the worst in 100 years). The damage amounted to $2.8 billion. Cyclones Titli and Gaja also hit the east coast in October and November of 2018.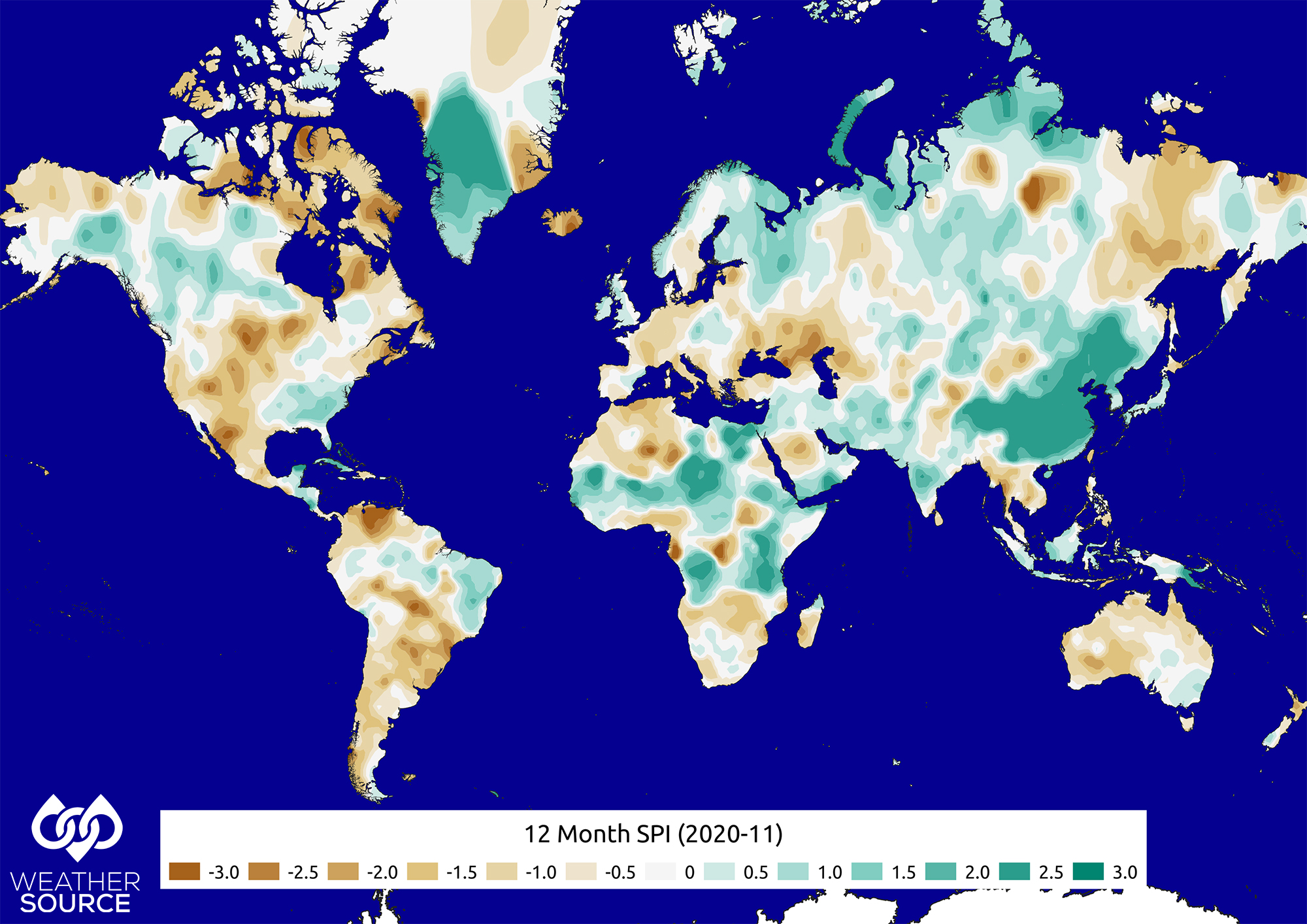 Sample Weather Source image showing 2020 worldwide drought impact.
It is no doubt that catastrophic severe weather events will  increase across the globe. What countries and even companies do to mitigate the risk of these weather events is becoming increasingly important. It is time to think about preparing if you have not already. In the U.S. alone, weather accounts for more than $600 billion a year in lost revenue and businesses that do not have a weather strategy are putting their most valuable asset – the business – at risk. 
Everyone thinks and talks about weather, but only the most forward-leaning businesses actually harness it to optimize strategic decision-making. Complex weather data is challenging to decode and prepare for analysis, and also to know what to do with it without an in-house meteorologist or climatologist.   
The good news is that Weather Source is here to help and our team of meteorologists and climatologists bring a deep working breadth of industry knowledge paired  with our deep continuum of weather information going back to the year 2000 to present and with a forward forecast view of 15 days and an enhanced and extended forecast going out up to 42 days. Our superlative team of professionals regularly work with our clients to make hyper-local weather and climate data accessible and actionable for your business around the globe and across industries.
Weather Source is also actively working with its parent, Pelmorex and The Weather Network, on long-term climate models and scenarios and stress testing business processes impacted by weather.  By applying long-term climate views and the impact of climate change on weather events, businesses are now able to create long-term weather strategies and anticipate and plan for more severe and disruptive weather.
Sources: