In these challenging times, many traditional sources of business intelligence have lost their value by either being delayed or reflective of a prior environment. This was the foundation for a June 22 webinar hosted by S&P Global Market Intelligence: "Leveraging Alternative Data as a Guide Through COVID-19 and Life Afterward."
According to moderator Dave Pope, CFA, Managing Director of Quantamental Research at S&P Global Market Intelligence, data can be grouped into four tiers in today's evolving environment. The top tier is movement/logistics, which includes foot traffic, supply chain, and weather datasets.

Weather Source CEO Mark Gibbas was a webinar panelist. He discussed how weather data can be used to assess the effects of weather on fixed assets as well as to forecast the implication of temperature and humidity on COVID-19 transmission.
Pope set the stage for the discussion by inviting the nearly 500 live attendees to answer two poll questions. The questions revealed: 1) Attendees' number one challenge resulting from COVID-19 is access to timely data to make informed decisions; and 2) Approximately 50% of participants already use alternative data sources. 
Falling Foot Traffic
Jonathan Silverberg, CTO and General Manager of AirSage, shared how his company anonymously analyzes and aggregates mobile GPS data to create business intelligence products related to foot traffic. AirSage data reveals that foot traffic at properties managed by office REITs (Real Estate Investment Trusts) has plunged by 82% since March.
This information can be used to pinpoint properties at greater risk of tenant defaults and to identify where activity remains robust. As the nationwide lockdown eases, foot traffic can serve as an indicator of returning economic activity.
According to Temilade Oyeniyi, CFA, Vice President of Quantamental Research for S&P Global Market Intelligence, foot traffic data can be combined with other datasets such as weather for more robust insights.
Supply Chain Monitoring
There has been a significant reduction in earnings guidance put forth by corporations since the onset of the pandemic, according to Chris Rogers, a Supply Chain Analyst with S&P Global Market Intelligence's Panjiva. Rogers explained how this information deficit can be supplemented using supply chain data derived from bills of lading. These are simple shipping manifests that include details such as where a product is headed, where it came from, who shipped it, and so on. 
This data can offer real-time insights into supply chain disruption, changes in demand, and the revival of the supply chain for an individual company or across an industry as a whole. For example, there has been a historic drop in U.S. import activity since March, especially with regard to consumer discretionary spending such as retail and automobiles.
Weather Data and Risk Mitigation
With rising supply chain disruption, weather-driven analysis is more important than ever, according to Gibbas. 
"COVID-19 is a disruptor but weather can be another disruptor on top of that," he explained. "Because supply chains are being disrupted we are looking for new supply chains that are more local and less at risk of disruption. Weather is a key factor in predicting supply chain success."
Gibbas shared the following visualization, which uses Weather Source OnPoint Climatology data to show 30-day temperature anomalies from April 19 to May 19, 2020.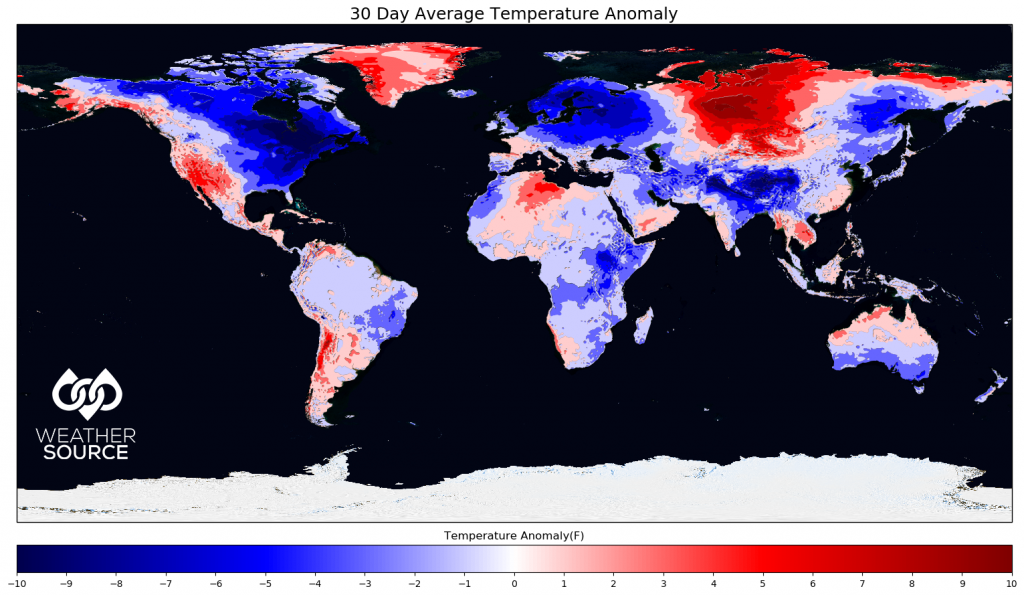 "Anything deep blue means it is several standard deviations outside of normal," Gibbas said. "If you look at the Eastern U.S., it was very cold. New England still had snow in May. Agricultural planting was either heavily delayed or seed needed to be replanted."
Daniel Sandberg, Ph.D., CFA, Senior Director of Quantamental Research with S&P Global Market Intelligence, discussed how Weather Source data can be paired with epidemiological data to illustrate how the propagation of COVID-19 varies in different geographies. This can help investors track what Sandberg described as "COVID climate risk." However, he emphasized this value alone isn't necessarily a reason for an investment decision.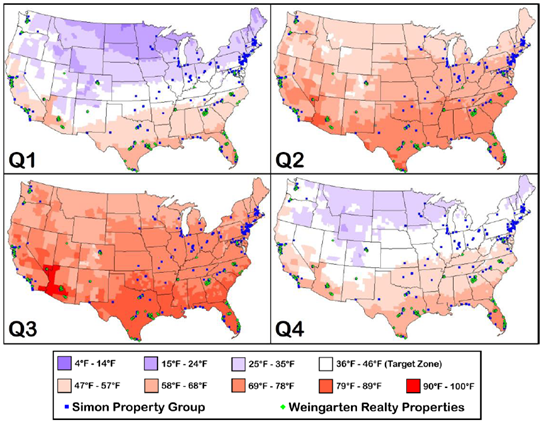 Gibbas concluded the pandemic is causing many companies to re-examine their overall risk mitigation strategy beyond COVID-19.
"Much like they're looking at climate change and how they're going to manage, COVID-19 has been a catalyst for companies to look at their risk in new ways," he said. "Weather is an important part in how companies should be looking at their risk mitigation." 
Click here to access the complete webinar replay.