2020 has been a remarkable year for many reasons, from the ongoing global pandemic to one of the most intense presidential elections in U.S. history. As a result, the international dialogue surrounding global warming and climate change hasn't received as much mainstream media attention recently. But 2020 is currently on track to be one of the warmest years on record—possibly the even the warmest. According to Copernicus Climate Change Service, with only a few weeks left to go, 2020 is currently on track to either tie or marginally surpass 2016, which is currently the warmest calendar year on record.
A La Niña Anomaly
2020 stands out among other record-breaking years because it lacks any major El Niño events, which contributed to previous records, including 2016 and 2019, the two warmest years on record. Conversely, in September the world entered into a La Niña event, which is El Niño's colder counterpart. 
Due to La Niña, it was previously thought 2020 would end up as the third warmest year  recorded with climatologists predicting temperatures would begin to trend downward. Instead, we have continued to witness exceptionally high temperatures this fall and winter. 
The Copernicus Climate Change Service, announced Dec. 7 that global average temperatures in November 2020 were the highest recorded for the month by a clear margin. Data showed November was nearly 0.8°C above the standard 30-year reference period of 1981-2010, and more than 0.1°C higher than the Novembers of 2016 and 2019. 
According to the World Economic Forum, so far six months of 2020 — January, April, May, June, July, and September—set records in at least one of the global surface temperature datasets maintained by researchers from groups such as NOAA, NASA, and Copernicus/ECMWF. All months of the year were either the second warmest or warmest recorded in at least one official dataset and no dataset logged any months at below the fourth warmest on record.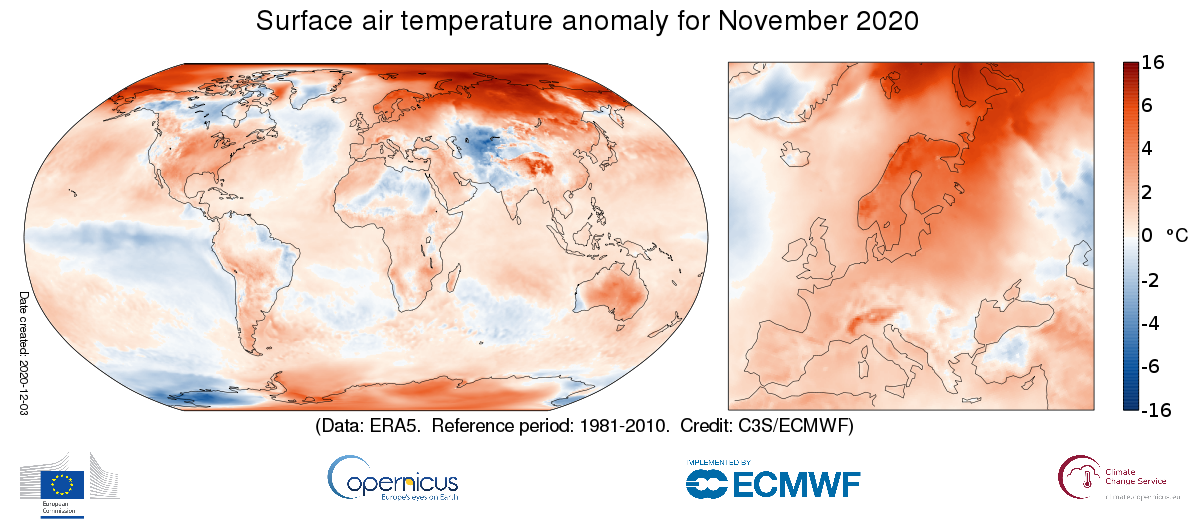 Expanding Tinder Boxes
2020's rising global temperatures have also yielded worldwide drought conditions. By the end of November, approximately 48% of the contiguous U.S. was in drought, up nearly 3% from the beginning of November, according to NOAA. The U.S. also experienced the largest amount of wildfires ever recorded during late summer and early autumn throughout the West Coast region.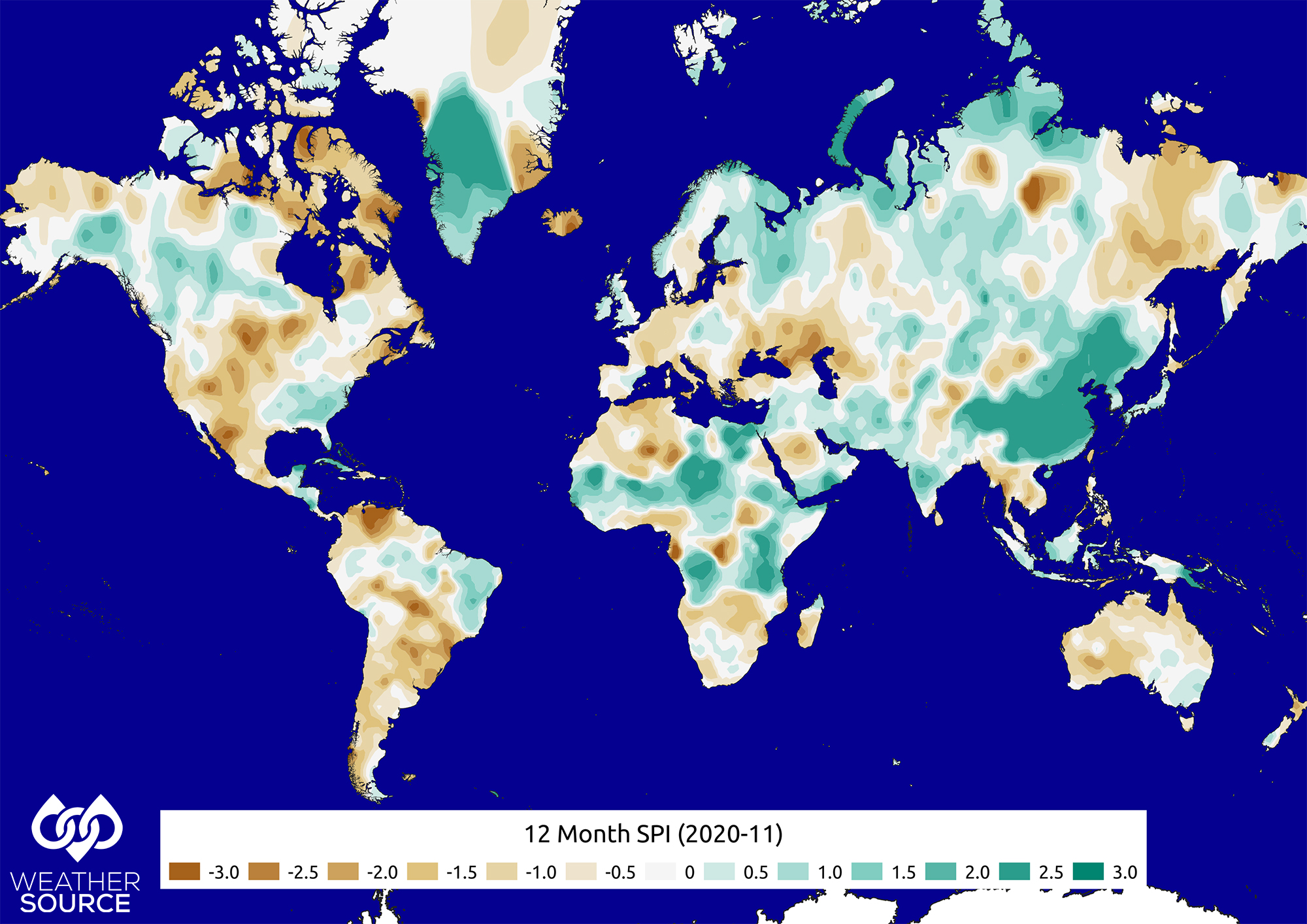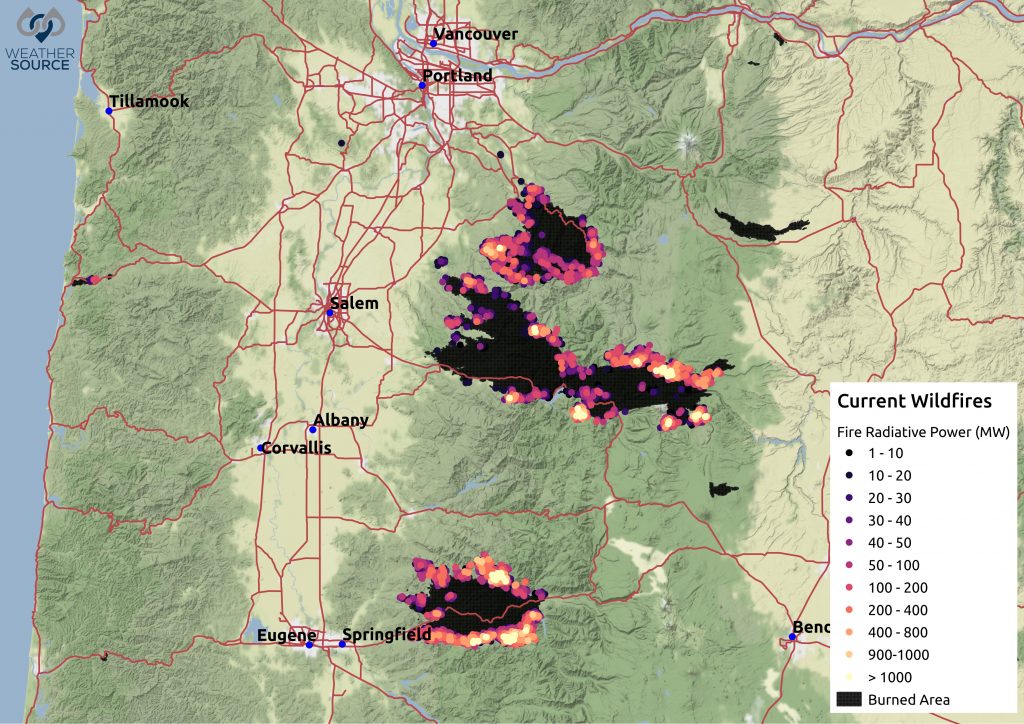 South America also experienced extreme droughts in 2020, with the worst-affected areas being northern Argentina, Paraguay, and the western border region of Brazil. Estimated agricultural losses were nearly U.S. $3 billion in Brazil alone. There was also significant wildfire activity across the region this year, most severe in the Pantanal wetlands of western Brazil, according to the World Meteorological Organization.
Insightful Climate Modeling 
Regardless of whether 2020 concludes as the warmest year on record or the second or third, the reality is obvious. Three of the warmest years ever recorded occurred during the past five years, indicating that the warming trend is here to stay. Weather Source focuses on not only the immediate weather needs of businesses but also on forward-looking climate planning for both acute (up to 12 months) and chronic risk (e.g., 5-, 10-, 15-, or 20-year outlooks). For example, will the record-breaking 2020 hurricane season become the norm over the next few years, and if so what could that mean for your business?
Recently, in collaboration with our partners at Pelmorex and The Weather Network–world leaders in weather and climate analysis–we have generated Global Climate Trend Risk Models that provide valuable context to global warming's effects on weather attributes and what "normal" weather will look like in 2025 and even beyond.
Click here for more information on Weather Source Climatology products.